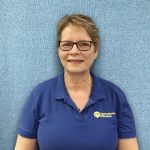 Fitness Instructor
Ginette Smith
After teaching teenagers at school, getting our members motivated is a piece of cake!
I joined Ferndown Fitness as a member in 2014 for health reasons and soon found my health improved due to losing weight and gaining fitness.
What I hadn't expected was how many friends I would make at the club; a fantastic bonus as I had been at quite a low point in my life. In 2016 I started working part time at the club on weekends, which fitted in nicely my full-time work as a school teacher.
I really enjoy working at the club helping members both new and more experienced; we always have a laugh and a joke. Ferndown Fitness is a bit like the TV series "Cheers"- where everybody knows your name!