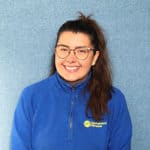 Fitness Instructor
Danni Andrew
After surviving a life threatening illness Danni now wants to help others get fitter.
After surviving a life threatening illness and major surgery it was important to me to get back to my previous fitness level as quickly as possible.
I found it difficult to find a fitness trainer who understood the issues associated with recovering from a serious medical condition. This inspired me to become a personal trainer myself so I could focus on helping others who may need extra assistance getting fit and healthy. I joined Ferndown Fitness in August 2021 after passing my level three Personal Training Diploma. My own experience has really helped me understand the challenges of living with or recovering from health issues that affect mobility.